RHINOPLASTY FOR MEN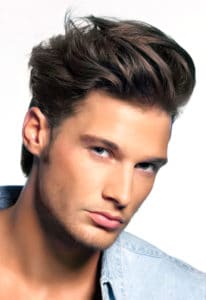 Male rhinoplasty (nasal reshaping) surgery is an intricate procedure that requires careful attention to the uniquely male facial structures in order to preserve the masculine facial elements while enhancing the overall symmetry and proportional balance of the face.
Male rhinoplasty surgery necessitates consideration of a number of factors unique to the male gender, for example:
Although it is acceptable for the female nasal structure to be slightly rotated or have a more narrow appearance, an overly pinched, rotated, or concave tip of a male nose may appear odd or unnatural
A straight nose is a crucial element of an aesthetically pleasing female nose; however, a slight deviation may be aesthetically acceptable for the male nasal structure
Osteotomies (narrowing of the nasal bones) must be undertaken with particular caution and restraint on male patients, as an overly aggressive male osteotomy will make it apparent that the patient has had a rhinoplasty procedure
While rhinoplasty is traditionally thought of as a reductive procedure, and most female patients seek to enhance their nasal shape by minimizing its size, many male noses can actually benefit from nasal augmentation, a stronger dorsum (external ridge of the nose), and/or a more projected nasal tip
Although female rhinoplasty patients typically desire a nose that is slim and narrow, the majority of male patients would benefit from a slightly wider nasal structure that blends harmoniously with the generally wider structure of the male face
Photo Gallery
Click below to view real patient before and after images.
At Muse Plastic Surgery, located in Atlanta, Georgia, Dr. Wright A. Jones and Dr. Sabine Lovell have a special interest in performing male rhinoplasty procedures, and are able to offer patients dramatic rhinoplasty results, while maintaining a proportional balance between the nose and the rest of the face. Dr. Jones and Dr. Lovell employ meticulously nuanced surgical techniques to address and correct any aesthetic or cosmetic concerns expressed by their male patients, without compromising the uniquely masculine features of their facial appearance.
Our plastic surgeons understand that the creation of a natural nasal appearance is far more complex than simply removing a bump or correcting nasal asymmetry, and they customize every male rhinoplasty surgery to address the specific concerns of each patient. Dr. Jones uses his extensive facial surgery expertise to enhance and perfect the shape of the nose, while ensuring that the results blend seamlessly with the rest of the facial features.
MALE RHINOPLASTY PROCEDURAL DETAILS
Nasal reshaping surgery for men is performed on an outpatient basis under general anesthesia or twilight (IV) sedation, and involves either an open or closed incision technique:
Open Rhinoplasty: during this procedure, which is ideally suited for patients who require more comprehensive nasal reshaping, Dr. Jones or Dr. Lovell will make a small incision across the columella (the external end of the nasal septum)
Closed Rhinoplasty: for this technique, which is better suited for patients needing only minor nasal modifications, Dr. Jones or Dr. Lovell will conceal the incisions within the nose
For both open and closed male rhinoplasty procedures, our plastic surgeons will construct a more proportionally balanced and aesthetically pleasing nasal structure by utilizing pieces of cartilage from the septum (the partition dividing the left and right airways of the nose) to fortify and augment the pre-existing nasal structures.
Following your male rhinoplasty procedure, you can expect to experience some degree of post-operative bruising and swelling around your eyes and cheeks, which should dissipate within 7-21 days. Dr. Jones or Dr. Lovell will place temporary nasal splints and external casts to support the nose and facilitate proper healing, and they will provide you with instructions as to the steps you can take to ensure a safe and successful recovery period.
CONTACT MUSE PLASTIC SURGERY
At Muse Plastic Surgery, Dr. Jones and Dr. Lovell focus not on changing the core aesthetic components of their patients, but rather on using cosmetic enhancement procedures to help them become the absolute best that they can be. Our plastic surgeons stay up to date with the latest developments and technological advances in the field of cosmetic facial surgery, and they utilize these cutting edge techniques to ensure naturally beautiful results and the safest possible rhinoplasty procedures for their male patients.
Dr. Jones and Dr. Lovell believe in the importance of having well-informed patients, and will take the time to explain all of your male rhinoplasty options and procedural details so that you feel completely comfortable about your surgery. If you would like additional information about having your male rhinoplasty procedure performed at Muse Plastic Surgery, please do not hesitate to contact our office today. We look forward to speaking with you, and to scheduling your initial consultation with Dr. Jones or Dr. Lovell.
Contact us by clicking here, calling the office at 404.994.5937 or emailing us at info@museplasticsurgery.com