It's no secret that having kids transforms your life. But pregnancy and childbirth can also transform your body, leading to changes that don't always respond to diet and exercise. You live for the love, joy and laughter having a baby has brought you, but you can live without the sagging breasts, stretch marks and loose skin that have been left behind.
At Muse Plastic Surgery, we know that getting your pre-baby body back isn't always easy and sometimes more than a healthy lifestyle is needed to reverse the effects of pregnancy. Dr. Wright Jones and Dr. Sabine Lovell understand the cosmetic challenges many mothers deal with after having children and provide Mommy Makeover procedures in Atlanta, Georgia, to help them reclaim a more youthful, shapely figure. 
Whether you're worried about that tummy 'pooch' or want to restore your breasts to their original shape and position, double board-certified plastic surgeon Dr. Jones is here to help. As one of Atlanta's top plastic surgeons, Dr. Jones has the experience and artistry to deliver beautiful, natural results tailored to your unique aesthetic vision.
WHAT IS A MOMMY MAKEOVER?
There's no question that pregnancy can transform a woman's body. Hormonal changes stimulate breast growth that can lead to sagging, the abdominal muscles may weaken and separate, and unwanted fat might settle in thighs, hips or stomach. While all of these changes are natural and help your body support a developing baby, they are often permanent and can have a significant impact on your self-esteem. Unfortunately, diet and exercise aren't enough to reverse the effects of pregnancy and childbirth, but surgery can help you reclaim your pre-baby body.
 A mommy makeover is a highly customized combination of surgical procedures designed to help you look and feel your best after having children. Rather than one standardized operation, a mommy makeover is tailored to meet your unique needs and address the issues you want to resolve. Each woman's body responds differently to pregnancy — some women notice dramatic changes in their breast size or shape, while others are concerned about excess skin around the abdomen. Whether your goal is to sculpt a shapelier waistline or restore the appearance of your breasts, Dr. Jones or Dr. Lovell can develop a customized surgical plan and recommend the right combination of procedures for you.
WHAT CONCERNS CAN A MOMMY MAKEOVER ADDRESS?
Loose, excess skin around the stomach (a tummy "pooch")
Stretched or separated abdominal muscles
Stretch marks
Unwanted fat in common problem areas
Deflated or sagging breasts
Enlarged nipples or areola
Disproportionate contours
Excess fat or skin around the arms ("batwings")
Flat or drooping buttocks
IS A MOMMY MAKEOVER RIGHT FOR ME?
Mommy makeovers are highly personalized procedures, making them ideal for most women who wish their bodies looked the way they did before pregnancy. If you want to reshape your breasts, flatten your tummy or eliminate unwanted fat, there's a mommy makeover package that's right for you. However, there are some important things to take into account before committing to a series of surgical procedures.
The first is timing. Due to the time, costs and risks associated with surgery, a mommy makeover is recommended for women who are done having children. While the procedure itself shouldn't affect your ability to conceive, future pregnancies can compromise or reverse your results and cause the same concerns that you are now looking to correct to reappear. If you've recently had a baby, it's also important to ensure that your body has had enough time to recover from childbirth before undergoing surgery. For this reason, our plastic surgeons recommend waiting at least six months before pursuing a mommy makeover.
The second consideration is your health. Mommy makeovers typically involve multiple surgeries, and candidates should be in good overall health to ensure a safe procedure. For optimal results, patients should also be at or near their goal weight before surgery. Many mommy makeover staples, such as a tummy tuck or liposuction, are contouring procedures that can improve your overall body shape but aren't designed to help you lose a significant amount of weight. Your mommy makeover will yield more dramatic and satisfying results if you're within 10 pounds of your fitness goals.
Finally, you'll want to consider the recovery period when planning for your mommy makeover. For most mothers, this is often the biggest hurdle to overcome, as it can be challenging to find the necessary time your body needs to heal after surgery. While your recovery timeline will vary depending on which procedures are included as part of your mommy makeover package, most patients can expect to need at least two weeks to rest and recuperate. Arranging for things like childcare, transportation and help around the home ahead of time will help ensure a smooth recovery. 
If you have any questions regarding whether you're a good candidate for a mommy makeover, schedule a consultation with Dr. Jones or Dr. Lovell to learn more about this procedure and discuss your options. 
MOMMY MAKEOVER PROCEDURES
Dr. Jones is a double certified plastic surgeon with extensive experience performing all types of cosmetic procedures. Whether this was your first or your last pregnancy, Dr. Jones or Dr. Lovell can recommend a treatment plan with one or several cosmetic procedures that will help you achieve your goals.
BREAST AUGMENTATION
Many women find that their breasts change significantly after pregnancy and breastfeeding. Dr. Jones and Dr. Lovell can enhance your bust with breast augmentation, restoring lost volume and creating a fuller, perkier look with breast implants. Breast augmentation can also correct an asymmetrical appearance and may be combined with other breast procedures for comprehensive results. 
BREAST LIFT
During pregnancy, hormonal changes may cause your breasts to swell and grow larger, which can lead to loose skin, sagging and volume loss. A breast lift can restore drooping breasts and raise them to a higher position, creating a more youthful appearance. The nipples and areola can also be repositioned during a breast lift to maintain a natural look.
BREAST REDUCTION
Some women's breasts grow disproportionately large during pregnancy. If they don't return to their normal size, the extra weight can cause back pain and discomfort. Breast reduction surgery can provide relief by removing excess tissue to make the breasts smaller and lighter. This procedure can also be combined with a breast lift to ensure a youthful, perky appearance.
COUTURE TUCK
The skin around the abdomen can stretch out significantly during pregnancy, and many women have trouble working off the 'pooch' of fat that can accumulate in this region. The abdominal muscles can also separate to accommodate a growing baby, causing an unsightly bulge that doesn't respond to diet or exercise. Dr. Jones and Dr. Lovell can perform the couture tuck, or tummy tuck, to tighten up the abdominal muscles and eliminate loose skin or fat for a more sculpted waistline. Most mommy makeovers traditionally include a tummy tuck procedure.
BRAZILIAN BUTT LIFT "GEORGIA PEACH LIFT"
Buttocks enhancement surgery is a solution to improve the appearance of flat or drooping buttocks, which may have resulted from weight loss, genetics, or a loss of skin elasticity or depleted tissue volume that happens naturally as with age.
LIPOSUCTION
Pregnancy can cause unwanted fat to settle in common problem areas. If you're struggling to lose a few inches around the hips, thighs, buttocks, love handles, or under the arms, Dr. Jones and Dr. Lovell can use body sculpting techniques to remove the fat permanently.
ARM LIFT
Women who have excess skin around the arms from a few cycles of weight gain and weight loss, or as a result of aging, can undergo this procedure to tighten up the tissues around the arms.
OTHER PROCEDURES
Depending on your goals, other procedures not listed here may also be included in your mommy makeover package to help you achieve your desired results. During your consultation, Dr. Jones or Dr. Lovell will help you explore your options and develop a customized treatment plan tailored to your exact needs.
PREPARING FOR YOUR MOMMY MAKEOVER
After your consultation and prior to surgery, you'll receive specific instructions on how to prepare for your upcoming mommy makeover. This might include guidelines on smoking or tobacco use, eating and drinking, and medications or supplements to take or avoid. Your preparations should also include finding someone to drive you home from the surgery center, stocking up on essentials like water, bandages or non-irritating cleansers, and arranging for help with childcare and household duties while you recover. If you work outside the home, you'll also need to plan to take some time off so your body can heal. If your job is strenuous, you might need to request more time or a "light duty" assignment.
Following these and other guidelines provided by Dr. Jones and Dr. Lovell can help make your mommy makeover experience as smooth as possible. The less you have to worry about before and after surgery, the more you're able to focus on resting and recuperating. 
WHAT TO EXPECT DURING YOUR MOMMY MAKEOVER
Your mommy makeover experience will vary depending on your unique surgical plan and the procedures that it includes. Before your scheduled appointment, Dr. Jones or Dr. Lovell will review the details of your mommy makeover, so you can feel as prepared as possible and know what to expect during your upcoming surgery. They will also address any questions or concerns you may have and provide guidelines for things like medication use and taking time off from work or other activities as you recover.
Mommy makeovers are typically an outpatient procedure and are performed under general anesthesia to keep you comfortable. Surgery can take several hours to complete, but the exact timeline will depend on which procedures you have chosen as part of your personalized package. Because a mommy makeover combines several cosmetic procedures into a single operation, you'll have the benefit of just one operation and one recovery period. When your surgery is complete, you should be able to return home once the anesthesia has worn off, but it's crucial to arrange transportation ahead of time since you may still feel sedated or groggy for several hours.
Once you arrive home, the healing process can begin. Our plastic surgeons will provide detailed aftercare instructions, schedule a follow-up appointment to check on your progress and provide any needed medications to ensure a swift and smooth recovery.
MOMMY MAKEOVER RECOVERY
After your mommy makeover, you expect to experience some pain, discomfort and swelling in treated areas. These side effects are completely normal and signify that the healing process has begun, but Dr. Jones or Dr. Lovell will provide medications and aftercare instructions to improve your comfort. The first week or two after surgery, you'll need to get plenty of rest and take it easy before returning to your daily routine. The initial recovery process can last for two to three weeks, while it may take up to six to eight weeks for a full recovery.
Your exact recovery will vary depending on which procedures were included in your mommy makeover, but you should plan to take some time off from work and avoid activities that involve lifting, stretching or bending, including childcare or household chores. You will be able to increase your activity levels gradually as your body heals, but it's highly recommended to have a friend or family member assist you for a week or two to avoid straining yourself too soon. Dr. Jones or Dr. Lovell will check your recovery progress at your follow-up appointments, and once you're cleared for a wider range of motion, you may resume your normal schedule.
MOMMY MAKEOVER RESULTS
Mommy makeovers have a very high satisfaction rate among patients, helping women transform their bodies and their lives. A mommy makeover can help you feel like yourself again by restoring your sense of confidence and self-esteem, but because the procedure is highly customized, your results will vary depending on your unique surgical plan.
Some results, including the slimming effects of a tummy tuck or liposuction, might not be apparent right after surgery but will become more noticeable as swelling decreases. If your breasts are enhanced, it may also take some time for your implants to settle into a natural position. Any incisions lines will gradually fade as your body heals, and your final results will emerge as your recovery progresses.
Once you've reached your body goals, you should be able to enjoy your new contours, shapely breasts and flatter stomach for years, as long as you maintain a healthy lifestyle. By waiting until you're done having children to undergo a mommy makeover, you can also ensure that your results won't be reversed by future pregnancies.
Mommy Makeover FAQs
WHEN IS THE RIGHT TIME TO HAVE A MOMMY MAKEOVER?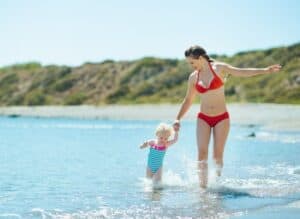 Dr. Jones and Dr. Lovell recommend waiting at least six months after the birth of your child to seek a mommy makeover. Your body needs time to recover from pregnancy and an opportunity to naturally lose some of the pregnancy weight with a fitness regimen.
Mommy makeover should also be postponed until after you are done nursing. While breastfeeding, your breasts take on a different size and shape. Your surgeon will have an easier time achieving your desired results after your breasts are completely dried out of milk.
Most importantly, if you plan to become pregnant again, the surgeons at Muse Plastic Surgery suggest that you wait on a mommy makeover until you no longer intend to have more children. While a mommy makeover does not pose any health risks if you get pregnant again, a subsequent pregnancy will almost certainly undo the changes accomplished with surgery. For that reason, it is better to wait so you can reap the rewards of plastic surgery for the long-term.
HOW DOES PREGNANCY CHANGE MY BODY?
Although bodily changes differ from woman to woman, you can probably expect to see the most significant changes occur to your stomach and breasts. As your pregnant belly expands, so too does the surrounding skin. If your skin is not especially elastic, this skin may not fit your contours after you lose the baby weight. You may also discover that the weight comes off less easily than before, with fat deposits clinging despite diet and exercise. Furthermore, your abdominal muscles may have separated due to pregnancy.
As for the breasts, they get larger while building functional tissue to help with breastfeeding. When nursing is completely over, however, the tissue atrophies and the breasts may be smaller than where they started. Sagging is also common after breastfeeding.
WILL A MOMMY MAKEOVER HELP ME TO LOSE WEIGHT?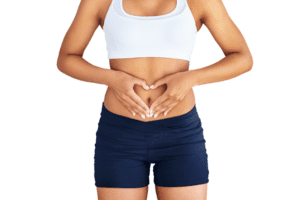 None of the surgeries included in a mommy makeover are considered weight-loss surgeries. Losing weight can be frustrating after pregnancy, but Muse Plastic Surgery suggests you first try to trim down with diet and exercise — the reason being that the surgeries included with mommy makeover are designed to eliminate stubborn pockets of fat rather than excess fat that could come off with a healthy lifestyle. The closer you are to your goal weight, the more successful your mommy makeover is likely to be in achieving your ideal body contours.
HOW MUCH DOES MOMMY MAKEOVER COST?
The price of a mommy makeover depends on which and how many procedures you choose to include as part of your mommy makeover. The good news is that by undergoing multiple surgeries at once, you save money on certain costs like anesthesia. Once you devise a surgical plan with Dr. Jones or Dr. Lovell during the consultation phase, you will receive a complete cost breakdown.
DO I HAVE TO HAVE ALL MOMMY MAKEOVER PROCEDURES AT ONCE?
While most women choose to have all mommy makeover procedures performed on the same day so that they may overlap the recovery times, if you would prefer to space out the surgeries, Dr. Jones and Dr. Lovell can develop a surgical plan and schedule that meets your needs.
CONTACT MUSE PLASTIC SURGERY
At Muse Plastic Surgery, Dr. Jones and Dr. Lovell help patients achieve cosmetic goals that help them become the best they can be. They stay up-to-date on the latest developments and technological advances in the field of body contouring, vaginal rejuvenation, and facial aesthetics, to provide patients with the most effective procedures.
Dr. Jones and Dr. Lovell will take the time to explain the different procedures that might be a good option for you after pregnancy. They will also ensure you are completely comfortable with the process before moving forward. If you would like more information about mommy makeovers, please contact the Muse Plastic Surgery office today. We look forward to speaking with you and scheduling your initial consultation with Dr. Jones or Dr. Lovell.
Contact us by clicking here, calling the office at 404.994.5937, or email us at info@museplasticsurgery.com.
*This information about Mommy Makeovers was reviewed by Board Certified Plastic Surgeon Dr. Wright Jones. If you have any questions, please don't hesitate to contact us.